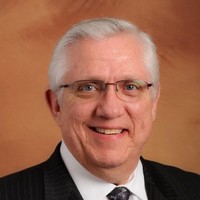 Partner
12711 Falling Water Blvd
Fort Wayne, IN 46845
Phone: 260-312-4800
Ron Neuenschwander comes to FSG as a forty-six-year securities veteran with twenty-five of those years serving as a Producing Branch Manager. He is a native of Berne, IN.
Ron attended Oral Roberts University and the University of Tulsa. After marrying his wife in 1973 he joined the Travelers Insurance Company in Tulsa, Ok. He acquired his series six the same year. In 1976 he joined Stifel Nicholas as a Financial Advisor.
In 1978 he moved back to Fort Wayne, Indiana, and joined Paine Webber as a Financial Advisor. He received his CFP designation in 1982. While a producing financial advisor, Ron served as one of four Divisional Insurance Sales Managers with Paine Webber serving 52 offices in eight states for four years.
He served on the board at Fort Wayne Christian School and as its President in 1986. In 1990 Ron opened the office for McDonald and Company Securities as the Branch Manager in Fort Wayne. When McDonald and Company chose its merger partner as Keycorp in 1998, Ron chose his as Wheat First Union. Since that time and through corporate mergers and name changes Wells Fargo Advisors emerged, Ron grew the Fort Wayne office from himself to 34 people including 22 Financial Advisors. He was named a Premier Manager three times and a Premier Advisor six times. In 2015 he stepped down as the Manager due to his health.
During his career, and with the help of Jim Farmer, he has personally placed over 100 Million Dollars of permanent Life insurance with his clients since 2006. He retired from Wells Fargo Advisors in December, 2018. His son Greg who worked with him for fourteen years continues to work with Wells Fargo Advisors and their clients. After being retired for a year, Ron has elected to become part of the team of FSG.
Ron enjoys fishing and golfing and spending time with his wife, children and grandchildren at their place at the lake.
Securities offered through The Leaders Group, Inc. Member FINRA/SIPC 26 W. Dry Creek Circle, Suite 575, Littleton, CO 80120, 303-797-9080. FSG is not affiliated with The Leaders Group, Inc. http://www.finra.org http://www.sipc.org